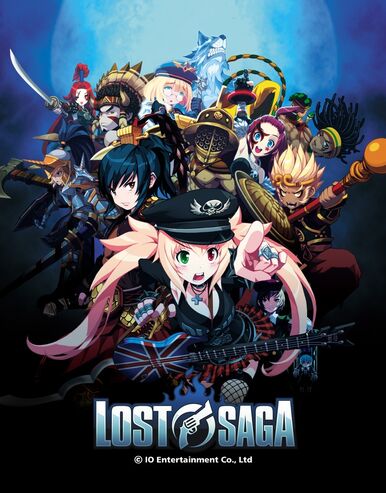 Welcome to the NA Lost Saga Wiki
A detailed Wiki for Lost Saga North American Version. This Wiki includes: Heroes, Gears, Maps , Items,Modes and More!
With this Wiki, Our team hopes to educate and help new players (and old) get a better feel for the game. Hopefully this  motivates them
to get better and GET PLAYING!
Lost Saga
Lost Saga North America (NALS) is a 3D fighting game developed by I.O. Entertainment and Published By OGPlanet in 2009.  In February 2013 OGPlanet dropped Lost Saga and it was picked up by WeMade USA (WeMade Entertainment) in April 2013. Due to OGPlanet dropping NALS & an unsuccessful transfer to the new server,  "OGP Players" Lost their accounts that they were working on since 2009 causing hero levels, items,  hard earned medals & quest achievements to be lost. After the migrate to WeMade servers every player started off with the same rank and hero levels. WeMade compensated the "OGP Players" by giving out Starter Packages which contained: 5 Permanent Basic Hero Packages,  6 Permanent Gear Chest,  150,000 GP, &  All 35 Heroes that were availible in Pre OBT for 30 hours.  In additon to Starter Packages WeMade kicked off the launch of Lost Saga with their first event The Registration Blitz. If player's registered within a certain amount of time they recieved prizes which contained: 1 Permanent Basic Hero Package, Gangdam Style Emote, (Horse Dance)  5 Permanent Gear Chest, & 100,000 GP. Currently WeMade USA has tried to make NALS an enjoyable experince for all players, with more events, more gears, more heroes and with help of their players hopefully get Lost Saga Greenlit by Steam. In December 2013, Z8Games took over Lost Saga North American in WeMade's place.
Updates